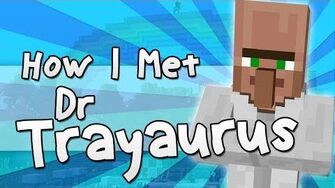 Dr. Trayaurus is a friend and companion to Dan on most of his mod reviews. He is a Minecraft villager who conducts tests and gathers results on each mod while Dan reviews the mod in the testing chamber of his Lab. Dr. T also has his moments when Dan introduces something or someone to him, or when he messes things up.
Appearance
Edit
Dr. Trayaurus looks like a normal Librarian Villager, however there are situations in which he changes his appearance in accordance with the particular mod review or event. Basically, he's the thing that differentiates this guy from the other 2,000 million unoriginal and mentally handicapped Minecraft youtubers that do nothing but please 10 year olds who can't think of anything that isn't related to Minecraft. He has done some unusual things, for instance taking over Minecraft. Yes, it was him who did the villager takeover on April first, 2014.
Personality
Edit
Dr. Trayaurus seems to spend his time on Cornhub, where he doesn nothing because he cannot remove his arms from his coat. How you types in Cornhub? This is one of the many mysteries that the world may never know.
Why does this matter, to be honest? He's just a minecraft villager with a nameplate.
Afterlife
Edit
He spends time with Dan, invents things and has secrets to rule the world...(this has nothing to do with his afterlife because he isn't dead)
Technical Details (added by to4oo4)
Edit
Trayaurus was made using the CustomNPCs mod. This was also how Grim was made. Spooky